Dr. Jamie Swan is a Registered Psychologist (#2480) in Kelowna, BC. She also holds registration in Alberta (#4964). She offers psychological services via telehealth across BC and Alberta.
Dr. Swan holds a Master's in Business Administration (MBA) from the University of Birmingham, UK. She spent many years in business at an executive level and as an entrepreneur. She also worked as a business coach, helping entrepreneurs organize for success and achieve greater balance in life. She intimately understands the challenges, both personal and professional, of running a business and the impact it can have on one's wellness. Having seen these effects firsthand, she decided to return to school to pursue her passion of helping others. Dr. Swan received her Doctorate of Psychology (PsyD) from California Southern University and began private practice in Alberta where she has immensely enjoyed blending strategic leadership skills with evidence based psychological practice in service of helping her clients achieve their goals. She recently moved back home to the Okanagan to begin private practice in her hometown of Kelowna.
Dr. Swan works with adults and couples. Her areas of clinical interest lie in trauma, anxiety, depression, mood disorders, stress and burn out. She works collaboratively with her clients to create integrated treatment plans tailored to their unique needs.
Dr. Swan works with evidence based modalities, in a supportive and empowering environment. She uses tools such as Cognitive Behavioural Therapy (CBT), Mindfulness Based Cognitive Therapy, Ego State Therapy, Solutions Focused Brief Therapy and Eye Movement Desensitization and Reprocessing (EMDR). These tools all have research support for their ability to assist clients in removing limiting beliefs and overcoming traumatic or distressing thoughts/memories to move forward.
Dr. Swan is a Board Certified Telehealth Professional through the Telebehavioral Health Institute. She has completed both level 1 and 2 certifications for practicing online safely.
Dr. Swan offers Individual Counselling to adults in the following areas:
Men's Issues
Trauma
Depression
Anxiety
Grief
Self-esteem
Infertility
Interpersonal concerns
Women's Issues
Mood Disorders
Thought Disorders
She also works with couples to help strengthen their relationship, overcome hardship or to learn to co-parent after the relationship has ended. She blends Gottman Method with Emotionally Focused therapeutic techniques.
Sir Wynston of Therapy (RET.)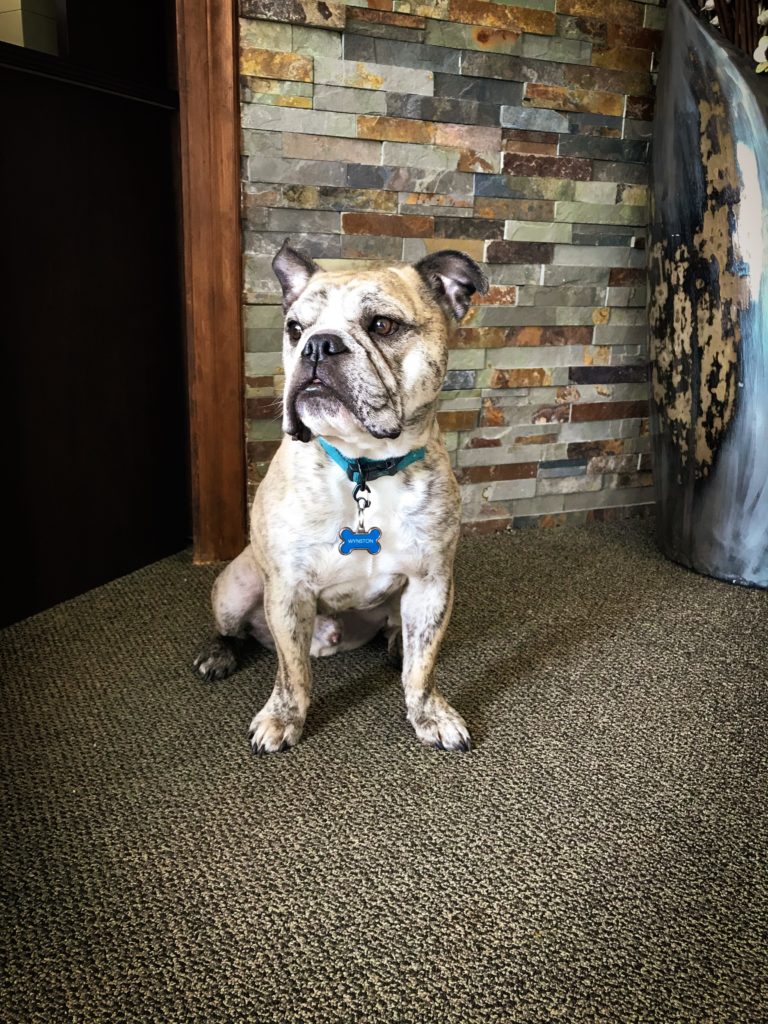 Sir Wynston, the English Bulldog, is an Assisted Therapy Dog and received his certification from Companion Paws Therapy Dogs. Wynston approaches therapy with 'paw'-ssion and excitement and prefers to be paws on in the office. He strives to create a loving and fun environment for his clients, while helping them to stay grounded and present throughout their work.
Wynston is passionate about people. He's never met a stranger he didn't want a scratch behind the ear from. Clients have said he has a gift for showing concern at just the right moment and for adding a laugh when it's needed most.
Wynston has 5 years of experience supporting his bulldog sister Dharma who was born in a puppy mill and has struggled with post-traumatic reactions throughout her life. He is a loving and faithful companion to her and enjoys broadening his pawsitive impact to the hoomans around him.